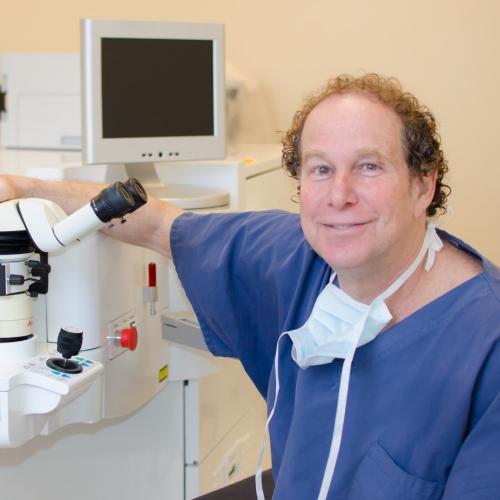 Specialty

Ophthalmology, Cataract Surgery

Certification(s)

Board-certified in Ophthalmology, Fellowship trained in Ophthalmology

Medical School

Washington University School of Medicine

Practice
Dr. Michael Shapiro M.D., M.S., A.C.P.E. is board-certified in ophthalmology and is a fellowship-trained expert in corneal disease and corneal transplantation.
Dr. Shapiro is one of the co-founders of Anderson & Shapiro Eye Care and is a former co-medical director and Chief of Refractive Surgery at TLC Wisconsin Laser Center. He graduated Phi Beta Kappa from Emory University in Atlanta, Georgia in 1976, and then received his medical degree with honors from the Washington University School of Medicine in St. Louis, Missouri in 1980.
Following his internship training in San Diego, California, Dr. Shapiro completed his ophthalmology residency at the University of Wisconsin-Madison. Following his residency, Dr. Shapiro completed fellowship training in corneal disease and corneal transplantation at the prestigious University of Iowa Department of Ophthalmology. Dr. Shapiro continued his education, receiving a Master's Degree in Health Administration from the University of Wisconsin.
In 1985, Dr. Shapiro took over the practice of Dr. F.S. Davis at the Davis Duehr Dean Eye Clinic, eventually becoming Chairman of the clinic. Dr. Shapiro specializes in cataract and corneal transplant surgery, and pioneered refractive surgery in Wisconsin by establishing the Refractive Surgery Clinic with Dr. C. Joseph Anderson, having performed thousands of cases for the treatment of nearsightedness, farsightedness, and astigmatism. He is also Chief of Ophthalmology at Adams County Memorial Hospital in Adams-Friendship, Wisconsin.
Dr. Shapiro lectures nationally and internationally, and has published many articles and book chapters on his specialty. He has been named to the "Best Doctors in Madison" list each time it has been awarded, in addition to "Best Doctors in America" and "Who's Who".
Even in his leisure time, Dr. Shapiro keeps active. Dr. Shapiro enjoys research, invention, and entrepreneurship. In 1994, Dr. Shapiro invented and patented the Eye Irrigator (www.eyedealsafety.com), designed to be the most effective method of ocular lavage in cases of chemical splashes and particulate matter exposure to the eyes.